Back to all posts
Posted on
Register for Parent Teacher Interviews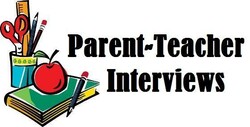 Pine Grove will be holding virtual Parent Teacher Interviews on Tuesday, November 17th and Wednesday, November 18th. To participate in these interviews you need a device with a camera and microphone (such as a phone, laptop, chromebook). Here are the instructions to register for an interview:
1. Logon to the Pine Grove website at  https://pinegroveschool.gypsd.ca/
2. In the top menu bar click on "Bookings"
3. Go to the event "Parent Teacher Interviews" and click on "Register Now"
4. Follow the directions to fill out the required information and pick your time slots.
5. Core teachers are listed according to the grade they teach or the FRIM program. The only exception is LA 7F and Ms. Veenstra will be found under the grade 7 teachers.
6. Once you hit "Submit" your booking will come up as confirmed and a message with this information will be sent to the e-mail you provided. 
7. You will be e-mailed a link for the Google Meet by the teachers you have booked with.
8. If all slots are full for any of the teachers you wish to speak with, please e-mail that teacher to set up an alternate time for a phone or virtual interview.
*Note - Interviews will be 10 minutes long. You will be given the opportunity to arrange for a further meeting at the end of the interview should you need more time.